Rock Your World with our New Zoom Image Collection
Created on: Friday, June 21 2019 | Comments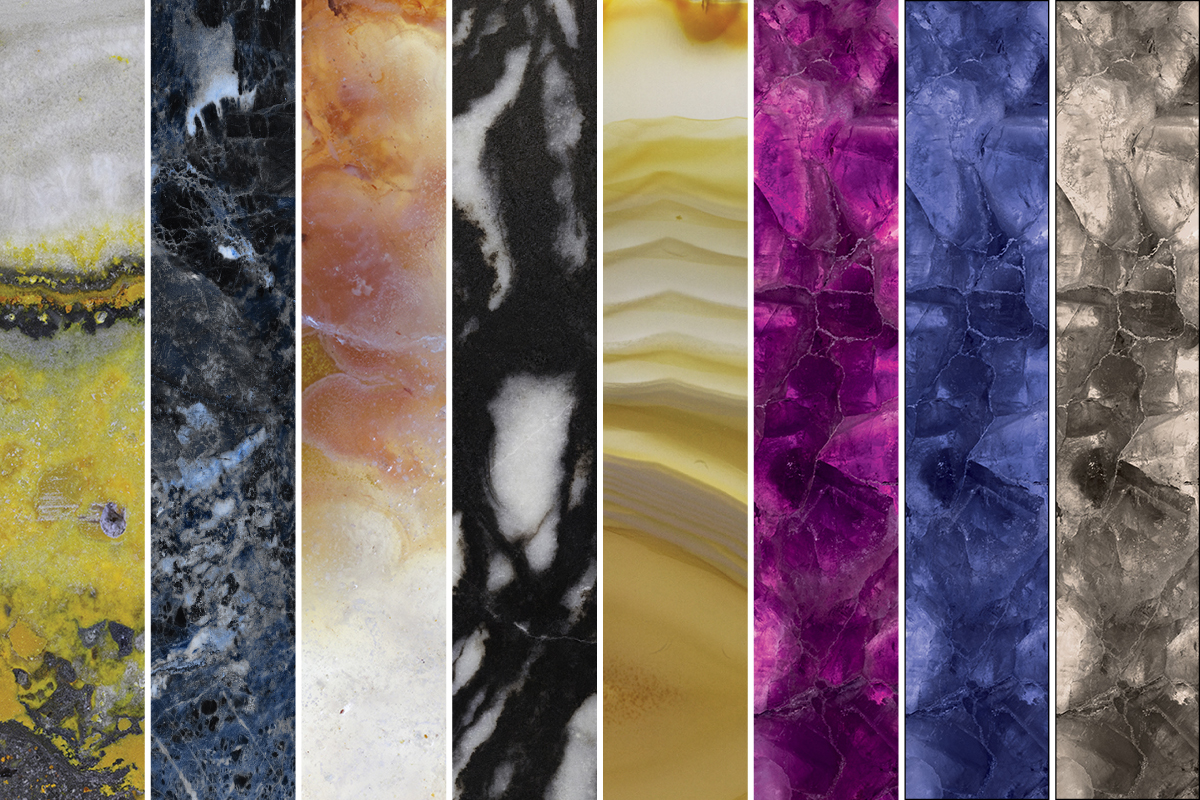 The latest additions to our Zoom image library expand our Rocks & Minerals collection and give you vibrant new ways to rock large-scale architectural glass applications.
Eight new Rocks & Minerals images join our existing 12 and offer impressive design flexibility. Each is an artistic composition in its own right—an expressive visual element that can set the tone for a space. Each can be used in its entirety. Or, using the Zoom Digital Darkroom, you can select specific areas within a full-size image, size and crop your selections, zoom in to discover a breathtaking world of details and create highly personalized one-of-a kind Zoom designs that bring the photographic beauty of stone to your projects.
All of the new images display the intricate patterning and organic variations in color, texture and veining of the natural product. Options range from vibrant, graphic and bold to painterly, subtle and serene to suit a wide array of settings, from statement corporate spaces to intimate restaurant lounges to healing healthcare environments. 
The application potential is equally varied: picture the possibilities for standalone works of art, high-impact feature walls, elevator interiors, branding and wayfinding components, illuminated displays, or any number of custom architectural fabrications. Across a project, a single Zoom image can be used at different sizes, scales and/or zoom levels to achieve different but cohesive end results.
Like all Zoom images, each new image has its own immense dimensions and is available in two resolutions—150dpi and 300dpi—an aspect that allows you to optimize your artwork for its intended viewing distance. Image sizes range from 181"x152" (Yellow Agate) to 375"x200" (Bumblebee Jasper) at 300dpi. Shift the resolution to 150dpi if viewing distance permits and there's twice the dimensional real estate to work with: around 362"x304" for Yellow Agate and 750"x400" for Bumblebee Jasper. 
Compare this to stock photography, which often tops out at around 24"x36" at 300dpi, and Zoom's sizeable advantage becomes apparent. Add to this the configurability and convenience of architectural glass, and, free from the physical constraints of real stone, you can creatively use Zoom Rocks & Minerals and ViviSpectra Zoom Glass to bring the timeless look of stone to projects of any size or scale.
Adding to the line's versatility, if a stone is right but the color isn't, Zoom image colors can be altered. This means that whether you're planning ahead or adapting to last-minute changes, you can tailor Zoom images to match an existing colorway, support a new color palette, align with brand standards, or delineate different floors, workspaces or zones within a building. The three Amethyst variations in the new Rocks & Minerals collection offer a glimpse at the colorful potential.
Finally, if you're seeking more than just a material solution, you'll quickly recognize another benefit of the new collection: ViviSpectra Zoom Glass can be used in many F+S products, including LightPlane Panels, LEVELe Wall and  Column Systems, and LEVELe and LEVELc Elevator Interiors
—all panelized systems designed to accommodate the glass as well as other surfacing materials. This means you can have fun with the design process knowing you can bring their Zoom Rocks & Minerals creations to life without worrying about mechanical and installation details.
See how Zoom can rock your world: visit the ViviSpectra Zoom Glass product page on our website, explore the Zoom Digital Darkroom, and tour some of our most recent Zoom projects.